Affiliate Blogging Ninja Review
Rating: 85/100
Cost: $16.98
Owner: Shreya Banerjee
Establishment: 2015
Website: affiliateblogging.ninja
I decided to try and look into some of the more inexpensive courses out of the web to try and relate them to my #1 recommendation for learning how to be an affiliate marketer online. The Affiliate Blogging Ninja is something that came across my desk instantly. It claims to be an inexpensive way to learn to create a profitable blog online with the Affiliate Blogging Ninja training course.
Let's take a look and see what we found ….
What is Affiliate Blogging Ninja?
---
Affiliate Blogging Ninja is basically an online course you can take to learn to build your own blog that can create profit for you without having to put very much time into it. Of course, when we hear things like that we get a little cautious. If there's anything we've learned as online affiliate marketers, it's that work always has to come before profit. It's hard to claim that you can create and profit from a site without putting a few hard months in before seeing any real return. However, Affiliate Blogging Ninja seems to think you can after going through her course.
Affiliate Blogging Ninja provides a simple step by step process for narrowing your skills on how to effectively profit from your blog site. It claims to teach you to have to only put in 2 hours of work per month, to get a reasonable steady income. I can appreciate the fact that it isn't claiming to help you make millions, because then we'd really know they were lying to us! However, 2 hours doesn't seem like enough time to build a legit blog site with steady income.
Here's what I found out…
Who Created Affiliate Blogging Ninja?
---
First, let's get to the master behind Affiliate Blogging Ninja. Shreya Banerjee created Affiliate Blogging Ninja back in 2015 after she had her first born child. She displays her site with a lot of very real looking photos of herself and her son, which helps bring the personable part of her story to the program.

To be honest, she does seem like a real mom, looking to help the internet world. I have no doubt there.
Shreya went through the same struggles as everyone else in the online marketing world has faced
before, tried and failed. Many times over again Shreya wasn't seeing any results when trying multiple different pay per click and marketing avenues.
After having her baby, Shreya realize that she had to make the online marketing thing work for her. Going to work and leaving her child at daycare wasn't what she wanted, and she needed the freedom in her life to raise her baby boy. That's when Shreya says she found the secret to online marketing. On her site she says, after finding this secret, she started to make money, and within 8 days had accumulated $384.47. Again, a very reasonable amount of money ( not someone trying to say they made a $1000 a day) however, in only 8 days? With only 2 hours of work? I am finding that hard to believe.
What Do You Get For Signing Up?
---
When I paid and joined, I am instantly confronted with some up sells. This of course always makes me feel uncomfortable. I just gave you money and now you're asking for more? Like do I need these extra things to even participate in the online training course?
The up sells were for:
Affiliate Vlogging Ninja;
A PLR Bundle; and
Done for you blog.
I skipped over the up sells in hopes that I would be able to achieve what she said I could without them.
Overall, you receive access to 6 different video modules, that looks fairly short and straight forward. They aren't very long, and I was a little suspicious as to whether or not the up sells earlier would have been the "complete" package. There just didn't seem like enough information provided to get the whole "affiliate marketing" training down pat. I continued to start with the modules anyway.
What Kind Of Training Does Affiliate Blogging Ninja Offer?
---
All in all, there are 27 videos and about 3 hours of total training offered for the price. Within at least 13 of the videos, she really focuses on setting up your blog for success. This is great for beginners who need that " hand holding" to really understand how it all works, however, anyone could easily set up their own blog within minutes.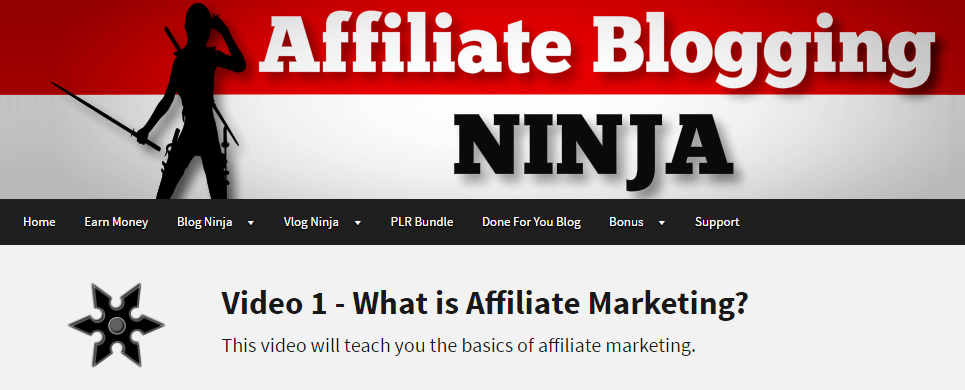 She talks a lot about how to promote your products through sites like Clickbank, and JVZoo. As well as showing how to write out the content. In her video she explains that she writes only 4 posts a month by buying PLR content and rewriting it into her own words. She's not really doing the research, she's just rewriting someone else's content, which is how she pumps her posts out so fast. I don't really agree with this, google and many other search engines are not a big fan of re-written projects. Instead they favor your own unique and misspelled work. It seems much more authentic and quality, which helps you rank higher in those search engines.
She also talks about, and shows you how to generate traffic to your site through 3 different methods, YouTube, Facebook, and Forums.
The Affiliate Blogging Ninja training is definitely very "newbie" orientated. She makes the explanations EXTREMELY simple and straight forward. As I mentioned earlier, she takes your hand and walks you through it. I applaud her for her ability to simplify the whole process to make it easier to understand. Although, she really does only explain how to start, but there's so much more to know to continue to succeed with your affiliate marketing blog.
In total, this is the break down of modules and what is offered:
Module one is the largest. She explains what Affiliate Marketing is, how to set up your domain and hosting for your blog, and how to utilize WordPress.
Module two is all about your content and how to properly lay out your blogs. She touches on headers and content types.
Module three she talks about the products you can promote on your blog and how to go about doing that.
In Module four she touches on the placement of how to display profitable links within your content, and what works best to get the most clicks on those links.
Module five is all about the traffic and where it will come from, and how to generate the most you can.
As she finishes up with Module six, she talks about all the different ways your site will be profitable for you, and different ways you can go about making it profitable for yourself.
They are all very short videos, the longest being 16 minutes, and on average the rest only being about 8 minutes long. The great thing about the way it is broken up into pieces like that, is that if you forget something, or are unsure. you can easily double back and review again.
These modules though, are really only a primer for what you really need to know to continue to build success out of your blog.
What Is The Cost?
---
Overall, the basic Affiliate Blogging Ninja course only costs you $16.98, and you really only get $16.98 worth of content. She does fit a lot into a short amount of time, so of course it's great on her part, however, you only really get the beginners look into affiliate marketing.
As for the up sells at the beginning. I don't think they are worth while, but here's the costing:
Affiliate Vlogging Ninja – $37
A PLR Bundle – $14.95
Done For You Blogs – $197
I really don't think you need these to get the beginners look into affiliate marketing. The PLR bundle is something I don't suggest anyway, because you should always try and write the content from experience the best you can. Its the best way you'll be able to do quality and authentic work that the search engines will reward you for. As for the "done for you blog", ALWAYS learn to make and succeed from your own blog. If you get a pre-made blog, what's the point in the course? You'll get set up, then land on your face trying to maintain and keep it going to be continuously successful.
Pro/Con
---
Pro
Lots of content fit into just a few videos, for a decent price;
Good for beginners to get them set up for success;
Can work for you, but only to start you up;
You don't feel overwhelmed by information, it's broken up appropriately;
Shreya is a legit person, and is not trying to scam you.
Con
Not enough covered to understand affiliate marketing overall;
Nothing about keyword research, which is extremely important;
Up sells seem kind of slimey, especially since you shouldn't need them to succeed;
Re-writing PLR work is a big NO – NO, search engines prefer real authentic work;
Only appropriate for newbies, I didn't learn anything I don't already know.
Conclusion – Can You Make Money With Affiliate Blogging Ninja?
---
At the end I do believe that Affiliate Blogging Ninja is NOT a scam. Shreya is a real mom looking to help others discover what she did about affiliate marketing. She fits a lot of beginner content into an affordable price, and easy to understand videos. She does well to set you up for success, and help you begin to make money online.
Something that always gets me with these types of courses, is that they make it seem like you can start earning tomorrow. Which is never the case. Even if you follow her step by step process, it's still going to be a few months before you see any real progress. And that progress will be slow going. Which is why when I say you'll need some more in-depth training, I really mean it. You'll need to continue to grow your blog and keep adding information constantly. You'll need to research keywords (which she doesn't talk about) and continue to work at targeting the right kind of audience.
Thanks for reading my review! Leave your comment and questions below, or visit me at my hang out!