Jaaxy Keyword Tool
Rating: 95/100


Cost: 30 Searches Free Trial – Pro $19/month – Enterprise $49/month
Owners: Kyle and Carson
Establishment: approx. 2010
Website: www.jaaxy.com
If you've created your own site and have been searching for keywords to write posts on day in and day out, you've come to the right place!  Keyword searching has been simplified with Jaaxy, to the point where finding the "golden nugget" of keywords could be as easy as 1,2,3. Jaaxy has completely simplified the process to make it easy, and have it make complete sense to even the newest online marketer.
In my article, I'll talk about what Jaaxy really is, what you should avoid when looking for a keyword searching tool, what it will cost you to take advantage of Jaaxy, and what I love and what could be better about Jaaxy.
Let's get to it!
What Is Jaaxy?
---
Just as I mentioned above, Jaaxy is for people looking for those "golden nugget" keywords. Jaaxy is a online keyword finding tool utilized by hundreds of online marketing professionals. Jaaxy collects data from all of the main search engines such as Google, Bing, and Yahoo. Jaaxy has been extremely simplified, and provides you with search data such as the competition of a keyword, the traffic that that keyword would get, and the average amount of times that key word gets searched. Jaaxy can even be utilized as a domain name purchaser and finding tool.
The main uses of Jaaxy are:
Finding unexplored "golden nugget" niches;
Finding high traffic, and low competition words;
Provides your own keyword lists;
Can search for and purchase domain names;
Google's Alphabet soup search technique – Instantly finds keywords being typed into google as we speak;
Shows where your post ranks on major search engines.
The Owners of Jaaxy
---
So if you've ever heard of Wealthy Affiliate, you'll know who I am talking about. Kyle and Carson have been doing the internet marketing thing for more than 15 years and have become extremely successful with it. One of their successes is Jaaxy, the keyword searching tool that even they utilize over any other tool! They both needed a tool they could use to quickly and powerfully find those "golden nugget" niche keywords, and so Jaaxy came to be.
The Problem With Other Keyword Tools That Aren't Jaaxy
---
There are a lot of different keyword tools that you can use to find the ideal keyword for your post or website, however, many of them come with hundreds of different metrics and number's that are hard to understand and extremely confusing. A lot of the time these keyword tools are completely useless, because they tools don't tell you want you need to know to find that successful "golden nugget".
Some indicators of a low grade search tool are:
Anything you have to install;
Anything that uses PPC guesstimates;
Anything that requires multiple different searches to find keywords for you.
Ideally, there's only 3 different metrics you'll need to know to find the best keywords. One is how much competition that keyword has because the more people using that keyword, the less likely you are to rank top. Second is how much traffic that keyword gets. If you choose a keyword that has a low competition rate, but gets no traffic, it really doesn't matter if you rank high with it or not. And the last thing is whether or not that keyword makes sense in your writing. The last one is more common sense, but ideally that's all you need to know to find the perfect keywords.
With Jaaxy, you're given lots of information, but only information that is relevant to those three things you truly need to know. This makes it so much faster and easier to find exactly what you're looking for in a keyword, cutting your search time literally in half!
What Is The Cost To use Jaaxy?
---
Another great thing about Jaaxy is that there are different levels of costing depending on how full time or part time of a internet marketer you are. Jaaxy offers a Free Trial, which is excellent if you just want to test it and see if everything that's so great about Jaaxy is actually true. Any legit program or tool will always give you a chance to try it for free. This is because the owners are confident that you'll love Jaaxy, and they aren't worried about whether you'll sign up. If you're on any kind of level of internet marketing, you'll instantly understand why Jaaxy is such a vital tool to have in your tool box.
The Free Trial comes with the following:
30 keyword searches;
5 results on Alphabet soup search;
Site ranking analysis;
Website analyzer;
Affiliate program finder;
Keyword list manager;
Brainstorm idea finder.
The other options of Jaaxy come with EVEN MORE awesome and exciting tools to help target the best keywords out there. The other two options are Pro for $19 a month, or Enterprise for $49 a month.
Take a look below at all the amazing features that come with Jaaxy membership!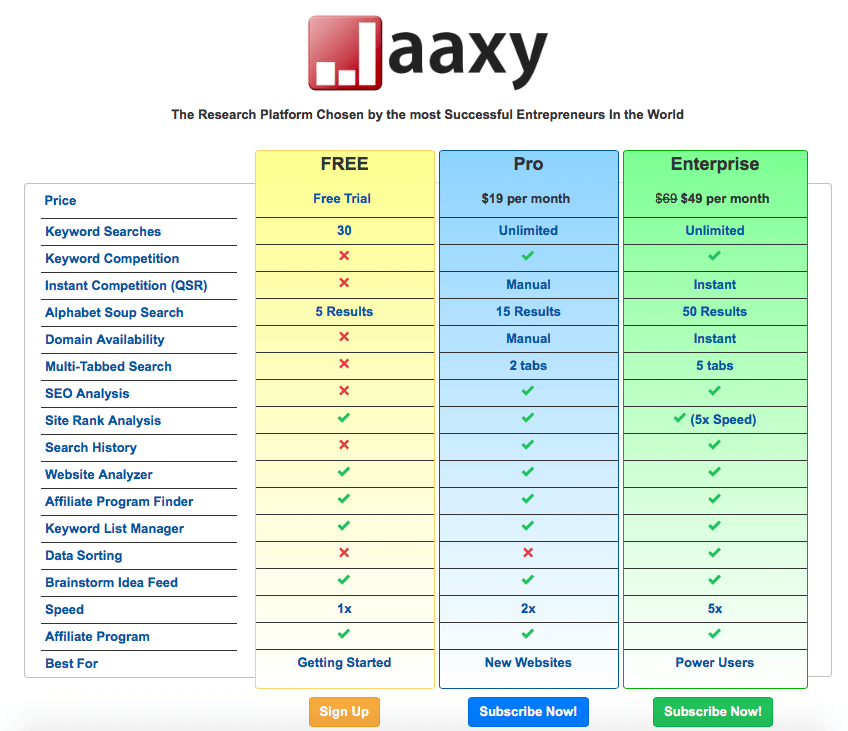 Choose the Jaaxy that works for you!
If you're new to the online affiliate word, try out Jaaxy for free and let me know what you think at my hang out page.  If you're a hardcore affiliate marketer, and have been struggling to get those "golden nugget" keywords, try the Pro or Enterprise memberships. As I said, I am not worried because I know you'll fall in love with the ease and simplicity of Jaaxy just as everyone else who's tried it has.
What If I am Unsure How To Use Jaaxy?
---
Jaaxy is extremely simple to use, however, if you're new to the online marketing world, you may find it difficult to understand the terminology. Jaaxy has a great training section within it that features several different videos outlining exactly how to use each aspect of Jaaxy. The videos where created by the owners who put the tool together, and use the tool on a daily basis, so the training is very detailed and to the point.
Just looking at the picture to your left you'll see that Jaaxy has a very simple interface, with detailed yet specific information that you can utilize to find the best keyword. Just simply type in the keyword or phrase you're looking for and within minuted Jaaxy will have pulled up all the information you'll need to make an informed decision on your keywords. It even marks the good keywords with a green circle, and the bad ones with a red circle! It's that simple!
What I Love About Jaaxy!
---
Jaaxy is such a great product, and I have so many great things to say about it, but here's just a few!
SO easy to use;
Extremely fast in generating results;
Can use it on ANY device;
There's nothing to upload or download for you to use it;
Grabs all its data from top search engines like Google, Bing and Yahoo;
Great video training right on the site for "How To's";
Shows you where your site ranks with your keywords;
Many different costing platforms to choose from.
What Could Be Better About Jaaxy
---
Although I have a lot of great stuff to say, every program and tool has room for improvement. Here's what I think Jaaxy could improve on:
Only provided in english, would help more if people around the world could use it in different languages;
After the free trial is done, even $19 a month can be much for the fresh online marketer;
Only a few features that are used consistently, some features won't be touched at all by some people.
Jaaxy – The Greatest Keyword Tool Out There?
---
Although I like to be objective with my articles, I really felt passionate about Jaaxy. I gave Jaaxy a 95/100 because in my everyday life I like to keep things simple, everyone has done a great job of making very simple things, like searching for a keyword, very difficult. Jaaxy is a tool that has been created to eliminate the complex world of online keyword searching, which is great!
Kyle and Carson created this tool for themselves, in hope of doing exactly that, simplifying the keyword search world to make it that much faster and powerful. I believe they have done the online world a huge favor by sharing this tool, even if it costs a little. The cost more than makes up for it in the amount of time you'll get back from searching for those "Golden Nugget" keywords.
Want to get started with Jaaxy now? Enter your first keyword below!